Off-Campus Housing Near
Toronto Metropolitan University (TMU).
Welcome to Parkside
A privately-owned student residence conveniently located within walking distance to TMU.
TMUs vibrant downtown campus located in the cosmopolitan city of Toronto is where your TMU experience starts, but let us provide you the ultimate student housing experience!
Fully furnished student apartments in
Toronto near TMU that feature: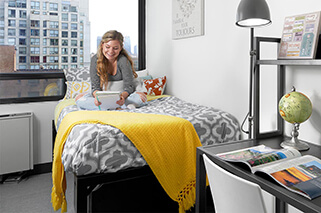 Study desk and chair, bed, storage, nightstand, armoire, love seat, coffee table, internet, electricity, water.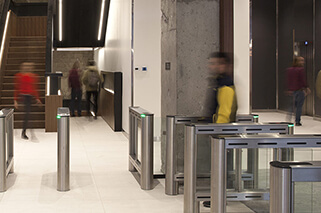 Professional on-site management, Parkside brings you premier accommodations with peace of mind so that your studies and academic success remain top priority!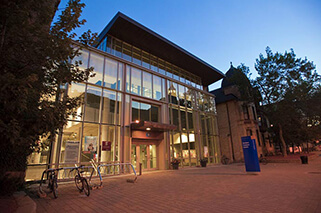 Within walking and biking distance to TMU. Boot the commute with a 500m walk to campus!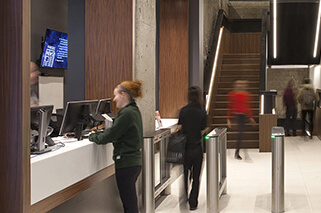 24/7 security environment without sacrificing the quality of stylish living.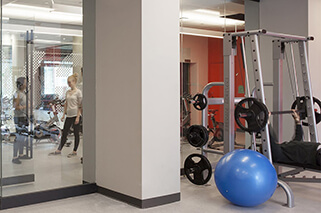 Dynamic shared spaces including a Cardio and Yoga Studio inclusive of Peloton Bikes, Fitness Centre, Arcade Room, and a variety of Communal and Quiet Study Lounges just to name a few!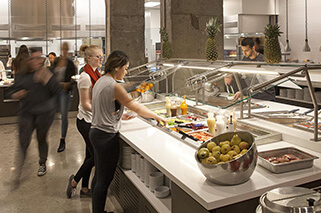 All You Care to Eat Meal Plan* With a mission to make it easier for you to live well, eat deliciously and sustain a healthier lifestyle, we're about providing you—the student—the options to eat great and make healthy choices.
Walk or bike to TMU campus
Located in the heart of Downtown Toronto, just 500m from the center of campus, Parkside offers TMU students a space to live, study, and stay connected.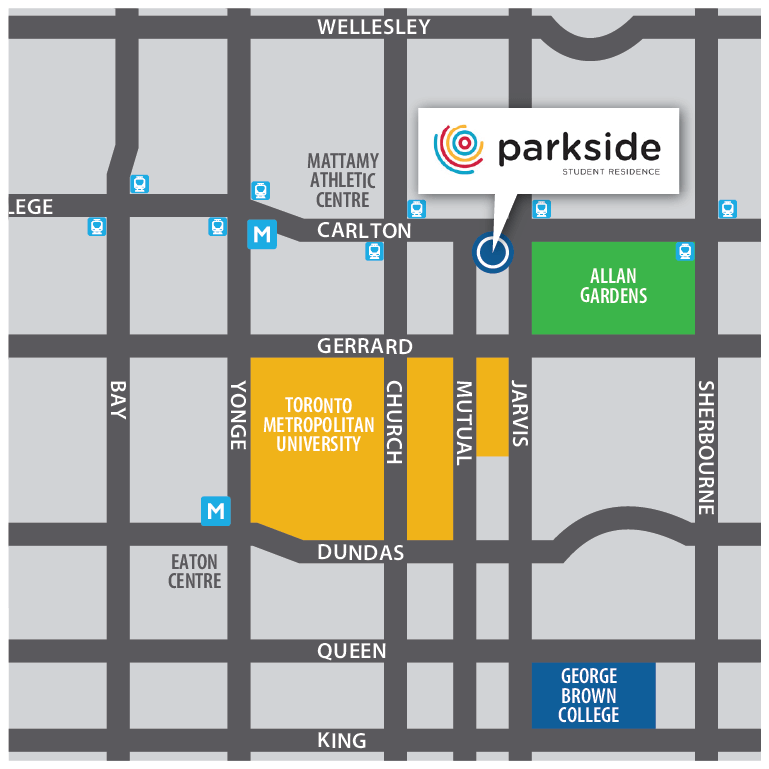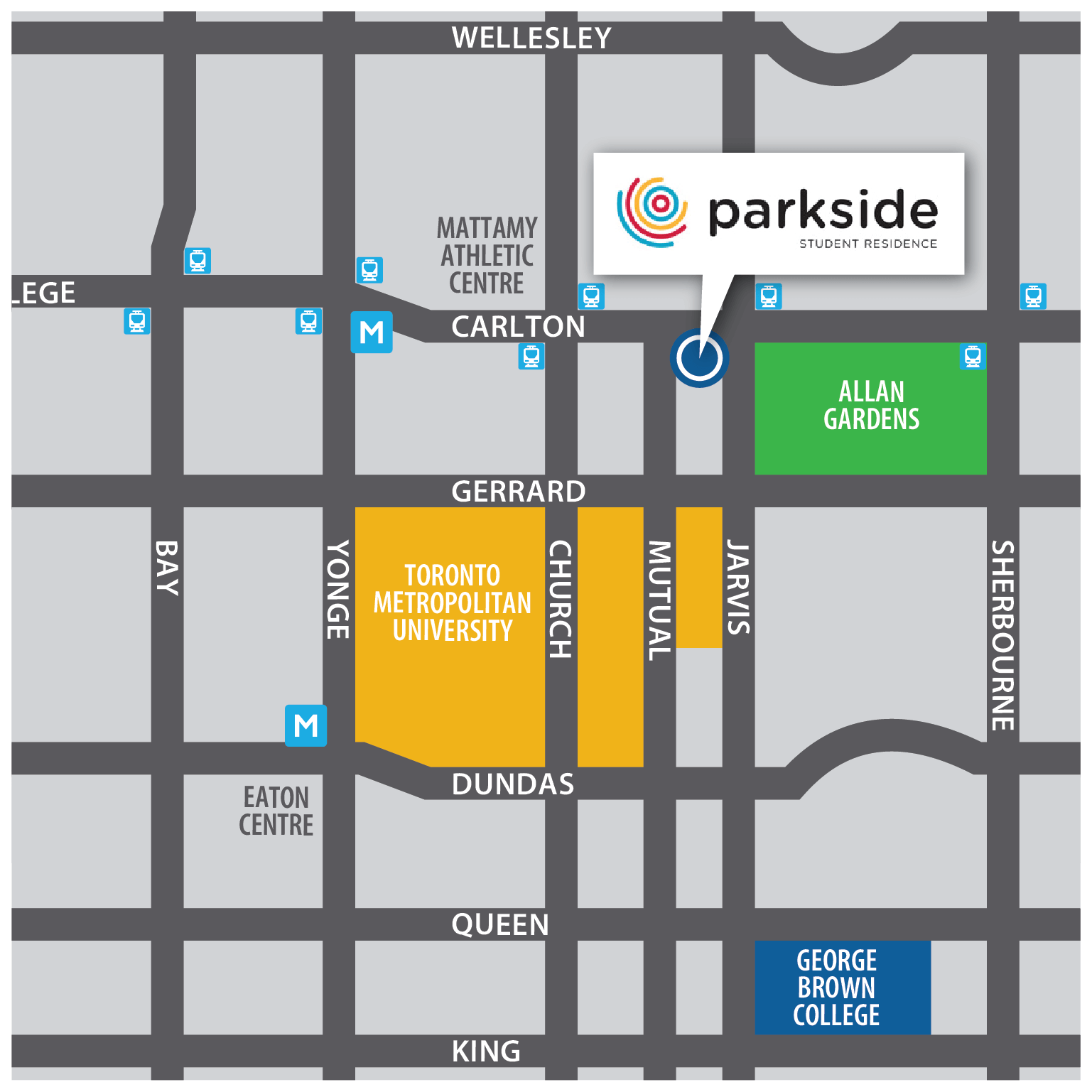 Supporting TMU student wellness
Our Residence Life staff focus on using on-site, university, and community resources to provide engaging programs for all residents. To accomplish this, Parkside staff engage residents frequently and through a variety of platforms and support programs, such as Residence Council and educational programming events that focus on community engagement, financial literacy, academic support, employability, and health and wellness programs.
Additionally, as a TMU student, you have a unique opportunity to be part of our Residence Life Committee (RLC), which is a formal partnership Committee comprising of key university partners, Parkside staff, Canadian Campus Communities (CCC) staff, and students that meet on a monthly basis to discuss trends, issues, and concerns related to the student life experience at Parkside. Be a voice in your community by joining this forum for ongoing review of policies and procedures, programming initiatives, and regular Residence Life functions and activities.
Our initiatives are designed to create opportunities for meaningful interactions between Parkside staff and residents, and create positive relationships among residents themselves. More importantly, they support the success of the community and contribute to a living learning environment intended to enable students to thrive academically and socially while attending TMU.
Learn About Residence Life
According to our residents
Moving to Toronto to attend TMU?
Whether a domestic or International TMU student, if you're looking to make a move to this vibrant, multicultural, and historic city, you can find all the resources you need about campus life by visiting TMUs hub for Campus Life. Explore everything TMU student life has to offer from clubs, sports, professional networks, and support services to balance your life, work, and study.
When it comes to life in Toronto, you'll experience first-hand its vibrant cultural scene, neighbourhood life, and why it was ranked the seventh most liveable city in the world. To learn more about Toronto, its attractions, the benefits of TMUs location, the transportation options available to you, or program and admission details, visit TMUs Toronto Advantage.
Did you know TMU enrolls 4,000 international students from 140 countries? If you're one of thousands international students planning to attend or already attending TMU, you can visit International Admissions for more information and details on admissions, support services, and fast enrollment facts. Additionally, by visiting International Student Support, you can get the latest updates on important dates/notices, travelling to Canada, working and living in Canada, networking and social events, and much more!
Going to school is a huge investment and as social creatures getting into a routine is beneficial for health and wellbeing, especially during a student's formative years away from home. Our goals are to make that transition as successful and rewarding as possible throughout your academic career at TMU University!
COMPARE PARKSIDE TO OFF-CAMPUS STUDENT APARTMENTS IN TORONTO
Off-Campus Apartments
All inclusive rental price
(including WiFi and access to all amenities)
Price may not include extra costs such as hydro, WiFi and other utilities
On-site staff support
Limited support from landlords
In-person and virtual residence life programming and events
Limited programming or community building events
Fully furnished suites
Unfurnished suites
Individual liability leases
No option for individual leases
(you may have to sign and be responsible for a lease with multiple people)
Looking for Ryerson Off-Campus Housing?
Ryerson University formally changed its name to Toronto Metropolitan University (TMU) in 2021. Parkside Student residence has provided premium, all-inclusive student housing with state-of-the-art accommodations and residence life programs to Ryerson students since 2015. Parkside continues to offer the same great student living experience for students attending TMU.
Register
Join our Exclusive VIP List for Availability
Visit our leasing office
Conveniently Located
Parkside Student Residence
111 Carlton Street Toronto,
ON M5B 2G3
Office/Leasing Hours:
Mon-Fri 9am-5pm
Front Desk Hours:
Mon-Sun 9am-1am
Tours Available:
Mon-Fri 11am-8pm | Sat-Sun 2pm-8pm